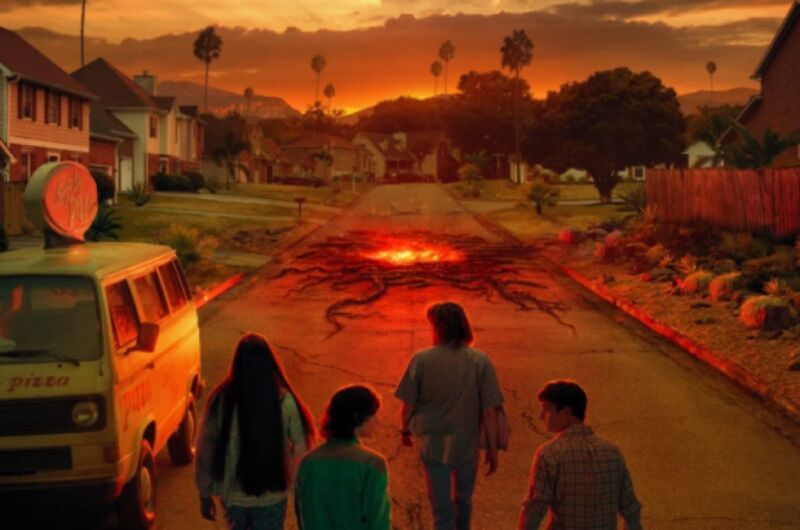 Stranger Things came back from a pandemic-driven three-year hiatus stronger than ever with an ambitious supersized fourth season—so much so that Netflix released it in two parts. Part 1 had a few minor flaws, particular in the earlier episodes, but quickly gained dramatic momentum. The cliffhanger ending deftly set the stage for the epic final two episodes, which featured a visually stunning, nail-biting battle against the denizens of the Upside Down—and some of the most emotionally resonant moments in the series to date. It's been two weeks since Part 2 dropped—the perfect time to talk about the many highs and occasional lows of this latest season.
(WARNING! Some very major spoilers below the galleries in the interest of in-depth analysis.)
Ratings-wise, this was the series' best season yet, drawing so many viewers when Part 2 dropped over Fourth of July weekend that Netflix actually crashed at one point. S4 Part 1 dominated the Nielsen streaming charts for four straight weeks, and that dominance is expected to continue once Nielsen releases its numbers for the two super-sized finale episodes. (There's usually about a month's delay for streaming platform viewership.) Part 1 also received 13 Emmy nominations. Seven years after it debuted, Stranger Things is more popular than ever, even launching two old '80s tunes back onto the charts after they were featured prominently this season.
The season opens eight months after the S3 finale. The entire Byers clan, including Eleven (Millie Bobbie Brown), has relocated to Southern California, where Will (Noah Schnapp) and Eleven naturally find themselves high school outcasts. Mike (Finn Wolfhard), Dustin (Gaten Matarazzo), Lucas (Caleb McLaughlin), Max (Sadie Sink), Nancy (Natalia Dyer), Steve (Joe Keery), and Robin (Maya Hawke) remained in Hawkins, where Lucas' newfound basketball abilities wins him admission to the popular crowd. Meanwhile, Hopper (David Harbour) is being kept prisoner by the Russians, but he's plotting a breakout with a Russian guard nicknamed Dmitri (Tom Wlaschiha). This involves sending a coded message to Joyce (Winona Ryder), who promptly hops on a plane to Alaska with Murray Bauman (Brett Gelman).
The decision to split everyone up geographically made for a weaker overall narrative arc, because not all the storylines were equally compelling, The Russia subplot was by far the weakest, despite great performances by the cast, and the oddball pairings of Hopper and Dmitri, Joyce and Murray, worked very well. There just wasn't enough plot to sustain it for the entire season. Also, each subplot is meant to evoke different film genres, which is a clever conceit, but the genres (prison breakout movie, stoner action comedy, 80s slasher horror, eg) don't always mesh particularly well. Frankly, the show works best when it stays focused on Hawkins, which has always been the heart and soul of Stranger Things. This season was no exception.
Out of place
Eleven, aka Jane (Mille Bobby Brown), and Will (Noah Schnapp) are navigating a new high school in California.


Netflix

El is being bullied by a walking cliche of a Mean Girl (Elodie Grace Orkin).


Netflix

Jonathan (Charlie Heaton) spends most of his time getting baked with his buddy Argyle (Eduardo Franco).


Netflix

Back in Hawkins, Mike (Finn Wolfhard) and Dustin (Gaten Matarazzo) are in a D&D club while Lucas (Caleb McLaughlin) is a rising basketball star.


Netflix

Mike and Dustin are being bullied by walking cliches of jocks.


Netflix

A traumatized Max (Sadie Sink) has withdrawn from everyone, including Lucas.


Netflix

Steve (Joe Keery) works with Robin at the local video store.


Netflix

Robin (Maya Hawke) crushes on one of her band mates.


Netflix

Nancy (Natalia Dyer) is an intrepid teen reporter


Netflix

Hopper (David Harbour) is stuck in the weakest storyline. He's in a Russian prison camp. A guard named Dmitri (Tom Wlaschiha) is his dubious ally.


Netflix

Joyce (Winona Ryder) and Murray Bauman (Bertt Gelman) fly to Russia to rescue Hopper.


Netflix

Star cheerleader Chrissy (Grace Van Dien) is having ominous waking visions.


Netflix

A mysterious force kills Chrissy in a very nasty way.


Netflix

It's the curse of Vecna, a monstrous entity in the Upside Down.


Netflix
There are a couple other minor nitpicks, most notably the simplistic depictions of high school bullies in Hawkins (basketball captain Jason, played by Mason Dye) and California (Mean Girl Angela, played by Elodie Grace Orkin) who torment our protagonists. They and their minions are little more than walking cliches, made all the more noticeable by how well other characters have been developed—including several newcomers this season.
And then there's Eleven's disproportionate response after being humiliated in front of a visiting Mike at the local roller skating rink: she breaks Angela's nose with a roller skate in a fit of rage. This is very out of character and seems to have been shoe-horned in for purposes of the plot. Eleven has only ever killed in self defense, and in the past would humiliate but not harm high school bullies. Plus, there are no real consequences or lessons learned. She is briefly arrested, but is soon whisked off to another secret government lab. There's a world that needs saving, and she needs to recover her powers. Who cares if a high school bully got her nose broken?
Part 1 ended on three cliffhangers. Joyce reunited with Hopper as he escaped from his Russian prison, but they still had to find a way back to the US. Steve, Nancy, and D&D dungeon master Eddie Munson (Joseph Quinn)—easily this season's breakout character—got trapped in the Upside Down. Dustin, Lucas, and Erica (Priah Ferguson) found another gate to rescue them, but Vecna snatched Nancy's mind at the last minute, with Steve torn between trying to save Nancy right then or looking out for the younger kids in the "real" world. As for Eleven, she learned the truth about what really happened in the laboratory that tragic day—and the true nature of the threat her friends now face back in Hawkins. Naturally, they're connected.
The latter episodes were among the strongest because they served to really flesh out the mythology, and it's notably rich and satisfying. Dustin suggests that perhaps the Upside Down has always existed, a hellish dimension inhabited by monsters like the Demogorgon, perhaps created out of human mental anguish. We learned those creatures constituted a hive mind in S2, and met a seemingly conscious entity called the Mind Flayer in S3, who seemed to know Eleven. In S4, we found out just who that is.
This season's big bad hails straight from classic D&D lore: Vecna, a once-powerful wizard who first became undead and then became a lich. The series gives Vecna a different backstory that connects the character to everything that has happened in Hawkins since the first season. He rather resembles Freddy Krueger from the Nightmare on Elm Street franchise, except he preys on people's (especially teens') negative thoughts and feelings rather than their dreams.